Logo:
Xitlali from Gold Star Property Management found my store on Etsy and purchased a custom logo and business card package.  In our first discussion about ideas for her logo she said maybe commercial buildings could be incorporated into the design since that would have a literal connection with her company type.  Also, she definitely wanted a gold color in the logo to go with the business name and a dark or royal blue to match.  Below are the first concepts based on that conversation: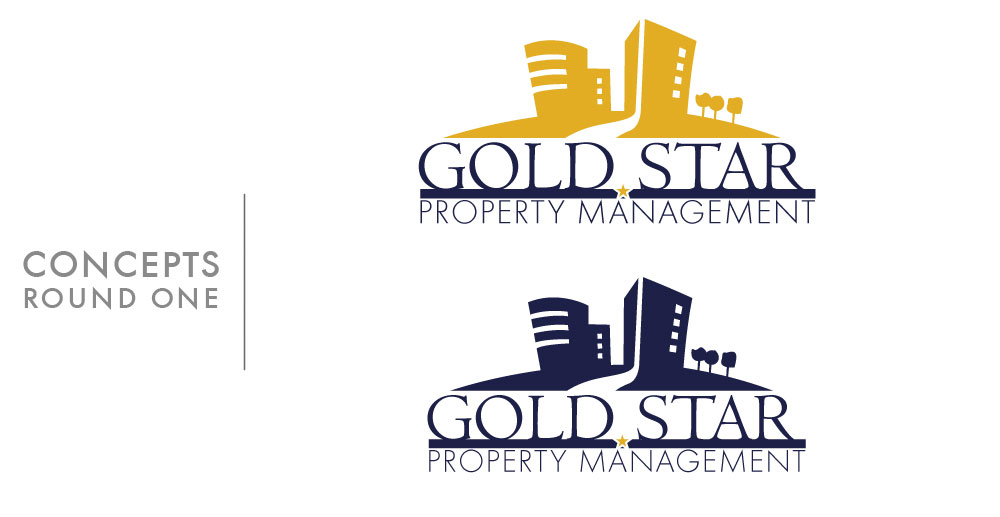 Later, she decided to scrap the building idea and sent me an example of a scroll decorative font she wanted to try.  She also wanted to emphasize the "gold star" more in the next concept.

While Xitlali liked the scroll font personally, she decided it lacked a professional feel she felt was necessary for her field.  She asked to see the same design using the font from the first concept.  Below is the final concept which she approved.

Total time from first concept to final concept: 4 days (This was spread out over several weeks as Xitlali had time to communicate with me.)
---
Business Card:
Once we had the logo set, the business card was really straight forward. Xitlali sent me the  information to include on the card and liked the first design I sent her.  She requested that the gold bar be in gold leaf on the card to give an added sense of class.  I placed the order with a vendor/partner who specializes in gold leaf and Xitlali should have her cards in a few days!
Design time: 1 day
Time from design to delivery: 1 week